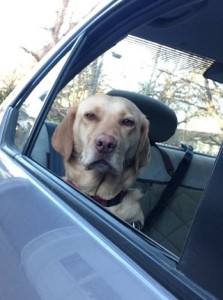 We adopted Abby just over a year ago and wanted to let you know that she's doing really well.
It was a slow start though.  We took her to our vet and discovered heartworm was his specialty.  Who knew?  We decided to change her medication and treatment plan even though it was more expensive, more inconvenient, but more likely to get her better faster. 
Poor Abby must have thought she was the unluckiest dog in the world getting stuck with us because we didn't take her out for walks and weren't much fun.  But we did hit on the idea of trying to at least give her mental stimulation, if not physical.  Will would regularly put her in the car and slowly drive around town with the windows down so at least she could smell and see what was happening.  She adored it and it got her through that long boring period of inactivity while she was being treated and recovering.  It's still one of her favorite activities.
After she finally got an all clear from the vet, we were able to take her on lots of walks and she just blossomed.  Exercise, good food, and lots of attention has done a lot for her.  I don't know if you remember that enormous belly she had — we still laugh that you described it as "National Geographic" proportions.  The city vet suggested she get a nip and tuck, but we decided not to even consider surgery until a full year went by and she was healthy, and we're glad that we did because she's now slim and trim.  No sagging belly anymore!  And though she sheds like crazy (the one downside of labs), her fur has slowly gone from wiry to really soft and a beautiful color.  Other than an ear infection and a sore paw, she's been very healthy.
She's been to Mutt School, which she loved, and did fabulously.  We'll probably sign her up for another class this spring or summer.  And she's a regular at "Paws on the Patio" — one of the local pizza restaurants welcomes well-behaved dogs on Wednesday nights in the nice weather.
But nicest of all, her fearfulness and worry have very slowly melted.  She began by being really frightened of Will )now by far her favorite person in the whole world) and she was often more comfortable being in another room from us.  Then she decided she could be in the same room, and eventually migrated to her dog bed in our bedroom.  And sometime in the fall, she decided that being on the bed with us seemed like a good idea and now she snuggles in every night.
So it definitely took time, but it turned out well – she's healthy, happy, and such a sweetheart.  We think she's just the best.
Thanks again for all that you do. And Abby sends kisses!
– Ann & Will, February 2013