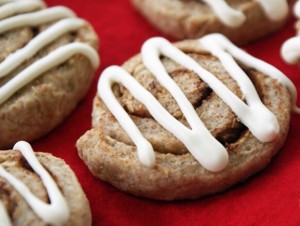 2 c. whole wheat flour
1 tsp. baking powder
1/4 tsp. salt
1/2 c. water or milk
1/4 c. canola oil
1 large egg
1 Tbsp. honey
1 tsp cinnamon
1/4 c. finely chopped walnuts or pecans (optional)
Cream Cheese Drizzle:
1/4 c. light cream cheese
1-2 Tbsp. milk or water
Preheat oven to 350 F
In a large bowl, combline flour, baking powder and salt. In a small bowl stir together water, oil and egg. Add to the dry ingredients and stir until you have a soft dough.
On a lightly floured surface, roll or pat the dough into a rectangle that measures roughly 8×14-inch. Drizzle with honey and sprinkle with cinnamon and nuts. Starting from a long edge, roll up jelly-role style and pinch the edge to seal. Using a sharp serrated knife, slice half an inch thick and place slices cut side down on a cookie sheet that has been sprayed with nonstick spray.
Bake for about 15 minutes, until springy to the touch. Wait until they have cooled completely before you spread them with cream cheese.
Makes about 2 dozen biscuits. Store in a tightly covered container or freeze. Refrigerate if frosted.